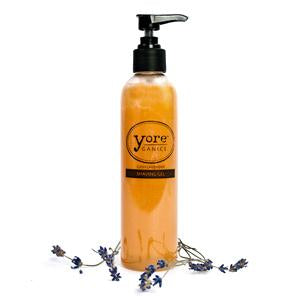 Yoreganics
Yore Wash
Soothes + Moisturizes + Improves:  eczema, dry skin, rashes & more!
We use extra jojoba oil for moisturizing and healing properties, as well as soothing essential oils of lavender!
FOR OPTIMAL RESULTS, follow YORE WASH with YORE BALM to Moisturize, Soothe & Improve!
BATHE or SHAVE
EXTRA MOISTURIZING WASH

  

for face & hands & body

SHAVING GEL for women & men
GREAT FOR:
eczema, psoriasis, dry & sensitive skin, MCS (multiple chemical sensitivities) 
babies, kids, adults, pets - anyone with skin or fur!
shaving + bathing!
SOOTHES & RELIEVES itching, redness & irritation
MOISTURIZES  dry, cracked & inflamed skin
IMPROVES  eczema, dry skin, rashes & more!
---
More from this collection