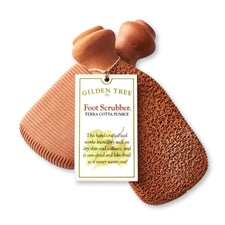 Gilden Tree
Terra-Cotta Foot Scrubber
A foot callus remover par excellence. This terra cotta pumice stone is perfect for dry skin, cracked heels and calluses, and doesn't wear out!
Called "The Best" by "O" the Oprah Magazine, our two-sided Foot Scrubber works to cleanse, exfoliate and smooth skin. Used regularly, it helps remove calluses, and reduces dry, cracked heels. Hand-formed by artisan women in Pakistan, our Foot Scrubber is made of terra-cotta, sun-dried and kiln-fired 

so it won't wear out, disintegrate or get moldy like other pumice stones do. 


A portion of each sale is used to help educate children in Pakistan. 
---
More from this collection