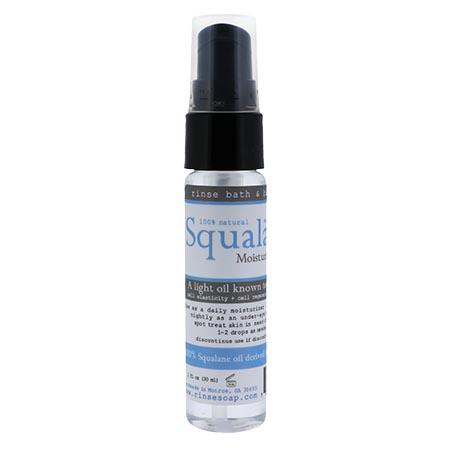 Rinse Bath & Body
Squalane Essential Oil Roll On
Believe us when we say you NEED this as part of your daily skin care routine! What is Squalane Oil, you ask? Our 100% Squalane Oil is a light, scentless, & quickly absorbing oil that is derived from the olive (who knew!?). This high-quality emollient is known for being highly moisturizing! It is loved for its ability to promote cell elasticity, cell regeneration & fight fine lines & wrinkles. The compound of Squalane is naturally found in the skin as a lipid (so you're not introducing anything foreign to the body) which makes it the perfect moisturizer for any part you deem fit, even sensitive skin. It's great for all kinds of skin types from oily and acne prone to dry and sensitive!
Squalane Oil Benefits:
Squalane Oil is one of the best skin care products available as it offers a host of benefits! It can help to keep skin smooth, healthy, and clear 

Moisturizes Skin - Squalane Oil is a lightweight oil that glides on smoothly and absorbs easily deep into the skin. It is non-comedogenic which means it won't clog pores, so it's perfect for all skin types! Applying a drop of squalane oil leaves skin feeling soft, supple, and super moisturized!
Helps Keep Skin Clear and Healthy - The antioxidant properties of squalane oil have been found to help keep skin healthy and clear. Many users have found it helpful for treating a wide range of skin issues from eczema to acne. 
Helps to Combat Fine Lines & Wrinkles - Many squalane oil users have noticed that using squalane helps their skin to have a more smooth appearance while fine lines and wrinkles seem to be reduced. Some customers have even referred to squalane as a "facelift in a bottle"!
Uses: This oil has too many uses to list all of them, but based on feedback from our customers, here are some of the most popular uses!
Facial Moisturizer (Daily... Even for tricky skin types!)
Under-Eye Treatment
Scratches, Scuffs, and Scrapes
Blisters
Fever Blisters
Sunburns
Burns
Bug Bites
After Shave
Hand Cream
Many of our customers also swear by it for helping eczema & psoriasis spots, too.
Pro Tip: A little bit goes a long way! We're talking you just need small drips of the oil!
Features:
100% Naturally Derived Ingredients

Vegan-Friendly
Travel-Friendly
Gluten Free
Size: 1 fl. oz.
---
More from this collection