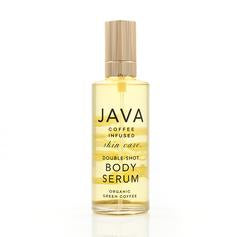 Java Skin Care
Java Body Serum Double Shot
Turn Up the Antioxidants for Radiant Healthy Looking Skin
"Three green coffee beans for health, wealth and happiness in each luxury bottle"
Our luxury Double-Shot Body Serum is brimming with a concentrated blend of our signature organic green coffee and organic argan oil. This non-greasy formula delivers a double-shot of antioxidants and caffeine, protecting and giving skin a youthful glow. Simply smooth a small amount over clean, damp skin to lock in moisture with this special blend for a smooth satin finish without heavy residue. Perfect for extra-dry skin.
JAVA Double-Shot super-moisturizes, brightens and softens skin, adds a sheen to newly shaved legs and makes tattoos pop.
Ingredients organic argan kernel oil, organic green coffee organic safflower oil, sweet almond oil, pumpkin seed oil, vanilla essential oil, honey absolute, rosemary extract, tocopherol, siam benzoin absolute
No Phtalates, No Parabens No Synthetic Fragrance or Color, Gluten Free, Sulphate Free, Cruelty Free
Made in USA
Directions: Apply a small amount to damp skin post-bath or shower to seal in moisture for extra smooth and hydrated skin.