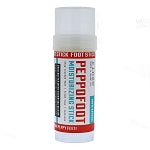 Rinse Bath & Body
Peppofoot Moisturizing Stick
Turn those barking dogs into peppy peds. Give your toes a treat every night & mornings too if you would like (as long as you make sure you won't slip out of your shoes).
Our Peppofoot Stick is perfect for dry cracked heels, tired toes, calluses & between pedi maintenance. Just rub on your feet, put cotton socks on if you like (they help to keep your toes warm & they keep the carpet fuzz of your feet), kick those bad boys up for the night & you'll have new toes in the morning. Rub a bit on the tops of your achy feet for a bit of a muscle rub too.
Triple Distilled Peppermint & Australian Tea Tree Essential Oils are blended with a dash of Menthol in a Shea Butter base for an ultimate toe tingling moisturizer. The Tea Tree helps act as an antiseptic and the Peppermint is nice & invigorating. The blend of Tea Tree, Peppermint & Menthol helps promote circulation in the toes, too.
Made with Shea Butter, Apricot Kernel & Avocado Oils (all wonderful moisturizers), Beeswax & Soy wax (to help keep it all together) scented with 100% natural Tea Tree Essential & Peppermint Essential Oils along with a dash of 100% natural Menthol.
Travel Friendly
100% natural, gluten free
2 oz. twist-up tube
---
More from this collection