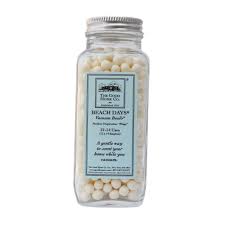 The Good Home Co.
Beach Days Vacuum Beads
Vacuums can carry some serious odors and every time you turn it on - they are released in the air.  Our Vacuum Beads solve this issue by releasing a fabulous fragrance in the air every time you vacuum.  Made from recyclable plastic beads, they will not leave behind dust and powder residue like vacuum powders - which are harmful to pets and children who crawl on the floors.  Simply add to your bag or canister and let them do their magic.
Each bottle contains enough for 12 to 14 uses.
10 oz glass bottle. 
---
More from this collection