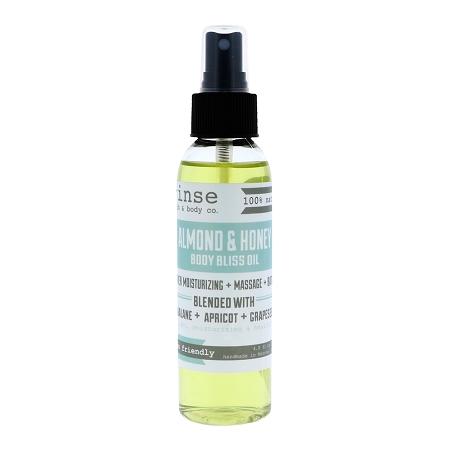 Rinse Bath & Body
Almond & Honey Body Bliss Oil
A 100% natural perfectly blended collection of oils to treat the whiskers as well as the skin hidden beneath them.
Argan Oil, Squalane Oil (derived from the olive), Grapeseed Oil & Coconut Oil team up to moisturize, provide a natural (non-greasy) sheen & tame the whiskers while helping to keep the skin below supple & healthy.  
While those oils do the "heavy lifting" a light blend of Cedarwood, Rosemary, Lemon & Lime Essential Oils not only create a clean beard-friendly smell (that's not overpowering, after all it'll be right under the nose) but they are also known for their many properties including being astringent, antioxidant, anti fungal & cleansing.  As an added bonus, Rosemary Essential Oil has been known to help with hair loss.
Why did we choose this collection of oils, here's the short of it:
Argan Oil derived from the Moroccan Argan Tree.
Argan is a light, almost scentless & quickly absorbing oil packed with all sorts of fatty acids as well as vitamin e.  For the hair, Argan Oil helps to ease frizz & provide a natural shine.

Squalane Oil derived from the Olive.
Squalane is a light, scentless oil that absorbs quickly & deeply.  The compound of the oil is the same as a lipid already found in our skin so you are not introducing anything foreign to the body.  Squalane Oil is known to help cell elasticity & cell regeneration (think anti-aging) as well as being a great healing oil.
Grapeseed Oil derived, well from the grape.
Grapeseed Oil is a light, almost scentless & quickly absorbing oil packed with Linoleic Acid which is known to have anti-inflammatory & acne fighting properties.  It is also known to help dry damaged hairs.
Coconut Oil (fractionated) derived from, you guessed it, Coconuts!
Fractionated Coconut Oil is very light (unlike regular coconut oil), almost scentless & quickly absorbs into the skin.  Fractionated Coconut is a great moisturizer for both hair & skin while it helps provide a light feel to oils.

To Use:  A little goes a long way, and we mean it.  Start with a few drops and massage them into the beard, especially into the skin beneath the whiskers.  Remember, start out with a little.  You can always add more if needed.  Apply 1-2 times per day or as needed.  It's always great to apply after a shower.  
Tip:  Having an especially dry & itchy under-beard... Apply a generous amount of Beard Oil at night & sleep on it.
Tip 2:  Use as a facial moisturizer too.  While you're there why not do the whole face.
---
More from this collection